Interviewing with Skill
This unique program was designed to aid managers in developing a structured, and at the same time, individual-specific Pre-Employment Interview. Every day we read of lawsuits filed because a manager was not schooled in the appropriate questions to ask. On the other hand, managers are crying foul because they feel there is no longer an avenue they can safely address. The GUARDIAN can address both needs successfully and safely. No longer will the employer fear a branch manager conducting a discriminatory interview or a warehouse supervisor overstepping his/her legal limit.


Unique Features
This is not just an interviewing process. Unique to this program is the Evaluation Analysis, an assessment tool measuring three mental aptitudes: quickness to learn, basic math, and visual activity; and ten personality dimensions (see Achiever Dimensions), supplying a subjective view of the candidate. The GUARDIAN then produces Interview Questions specific to your candidate's weaknesses and strengths. No more broad array of questions that lead nowhere.


Lawsuit Protection
In light of today's negligent hiring suits, The GUARDIAN also includes a protective tool for the employer. The Admissions Section insures that all legally allowed questions are asked, concerning current drug or alcohol abuse, and recent acts of theft. Designed with non-inferential, direct questions that do not discriminate, this section safeguards the employer against third party injury suits. The candidate must sign the included statement, understanding that any attempt to mislead, or falsify answers, would constitute grounds for disqualification or, if hired, dismissal. What could be safer?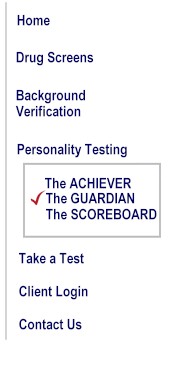 Professional Interviews/Deliverables

Many employers value the objectivity of a third-party, non-biased, professional interview and assessment. The Guardian is used in our offices, by trained personnel, in a non-offensive, non-judgmental, non-discriminatory manner. All measures are taken to place the applicant at ease to ensure honest and direct answers. We use the Final Report aspect of The Guardian to supply you with a detailed written report suitable for inclusion in the candidate's personnel file.